Promotion Domaine du Roc
Construction of 3 luxury buildings,  8 high quality family apartments 
Enjoying a large kitchen decorated in old pine wood, for the benefit of modern appliances with practical storage.
Each room is decorated in a warm and contemporary way with en suite bathroom with shower and/or a bathtub.
The ground floor apartments enjoying a cinema room, a games room area and a lounge area with bar.
These apartments are made with taste and refinement. The finishes of Domaine du Roc III can be chosen.
Description available at the Régie Turrian SA - Av. Centrale 142 - 1884 Villars-sur-Ollon
Website : www.1884villars.ch  with presentation : http://youtu.be/O2hfJE3EIB4  the construction of the first building which is completed to date.
A must see!
PRICE LIST AND DISPONIBILITY : 
Domaine du Roc I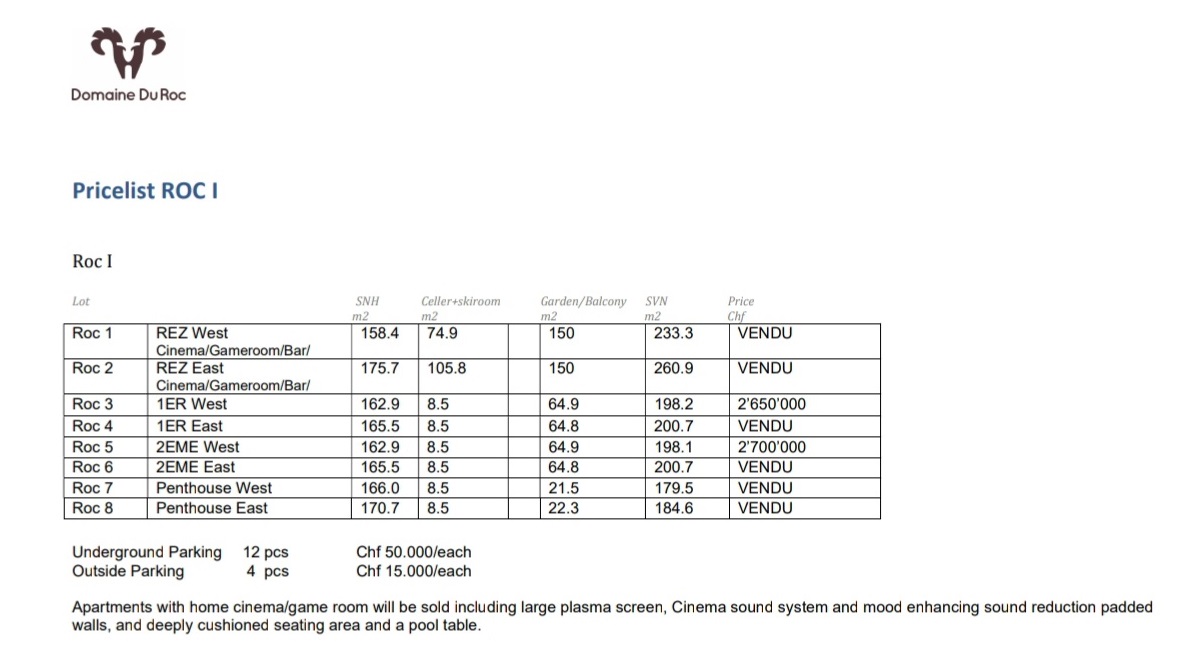 LIENS WEB : 
Roc 3 : https://www.turrian.ch/en/N6838/domaine-du-roc-i-lot-3.html 
Roc 5 : https://www.turrian.ch/en/N24415/domaine-du-roc-i-lot-5.html 
Domaine du Roc II
LIENS WEB : 
Roc 9 : https://www.turrian.ch/en/N16282/domaine-du-roc-ii-lot-9.html 

Roc 12 : https://www.turrian.ch/en/N7923/domaine-du-roc-ii-lot-12.html 
Roc 13 : https://www.turrian.ch/en/N24402/domaine-du-roc-ii-lot-13.html 
Domaine du Roc III
LIENS WEB : 
Roc 3 : https://www.turrian.ch/en/N24321/domaine-du-roc-iii-lot-3.html 

Roc 4 : https://www.turrian.ch/en/N24314/domaine-du-roc-iii-lot-4.html  

Roc 5 : https://www.turrian.ch/en/N24390/domaine-du-roc-iii-lot-5.html 
For all informations or visits, please contact :  
Mr Patrick Turrian : patrick@turrian.ch 
Mrs Carsta Bacher : c.bacher@turrian.ch